Kami sering menerima keluhan dari pengguna VPS Windows RDP Murah Herza.ID yang menggunakan OS Windows Server, bahwa mereka tidak bisa melakukan login ke Windows Server menggunakan RDP dikarenakan CredSSP Error. Maka, pada artikel kali ini, kami akan membahas cara mengatasi gagal login di RDP karena CredSSP Error sewaktu mengakses Windows Server.
Microsoft telah merilis beberapa tambalan keamanan pada Maret 2018 lalu untuk memperbaiki kerentanan pada CredSSP (Credential Security Support Provider Protocol) yang digunakan oleh RDP (Remote Desktop Protocol) pada Windows Server. Tetapi pembaruan ini telah membuat kesalahan otentikasi CredSSP di RDP dan menyebabkan hambatan bagi banyak pengguna.
Microsoft mendorong pembaruan Mei 2018 untuk meningkatkan keamanan dengan menjadikannya wajib bagi komputer klien dan server untuk menginstal pembaruan. Hal ini mengakibatkan windows server tidak dapat diakses melalui RDP untuk banyak pengguna dan membuat banyak untuk me-reboot server mereka untuk memperbaiki masalah dengan menganggapnya sebagai masalah sisi server. Artikel ini akan membantu Anda tentang cara memperbaiki kesalahan Autentikasi CredSSP di Remote Desktop Protocol (RDP).
Baca juga Artikel kami tentang 10 Cara Mengamankan Server Windows Anda sebagai bahan prefentif dalam menjaga keamanan VPS Windows Anda.
Apa itu CredSSP?
"CredSSP" atau "Credential Security Support Provider Protocol" adalah penyedia dukungan keamanan yang membantu mendelegasikan kredensial pengguna secara aman dari komputer klien ke server windows dengan menggunakan TLS (Transport Layer Security) sebagai pipa terenkripsi.
Mengapa dibutuhkan pembaruan?
Pembaruan pada bulan Mei dibuat untuk memperbaiki bagaimana CredSSP memvalidasi permintaan selama proses otentikasi. Microsoft telah menemukan kesalahan credssp di rdp dan menemukan perbaikan untuk kerentanan dengan wajib mengharuskan untuk memperbarui klien dan komputer server agar berfungsi dengan baik.
An authentication error has occurred.
The function requested is not supported

Remote computer: XXX.XXX.XXX.XXX

This could be due to CredSSP encryption oracle remediation.
For more information, see https://go.microsoft.com/fwlink/?linkid=866660
Kesalahan ini disebabkan oleh pembaruan windows yang tidak diinstal di server atau di komputer klien.
Bagaimana Cara Memperbaiki Error CredSSP?
Untuk memperbaiki masalah ini, Anda perlu menghapus pembaruan dan memutar kembali ke versi yang lebih lama. Tetapi kembali ke versi lama bukanlah praktik terbaik. Anda dapat memperbaikinya dengan mengubah kebijakan grup di komputer lokal untuk menggunakan pengaturan rentan.
Metode 1: Group Policy Editor
1. Pergi ke "Run" (Win Key + R)
2. Ketik "gpedit.msc" kemudian klik "Enter"
3. Sekarang, cari Computer Configuration -> Administrative Template -> System -> Credentials Delegation -> Encryption Oracle Remediation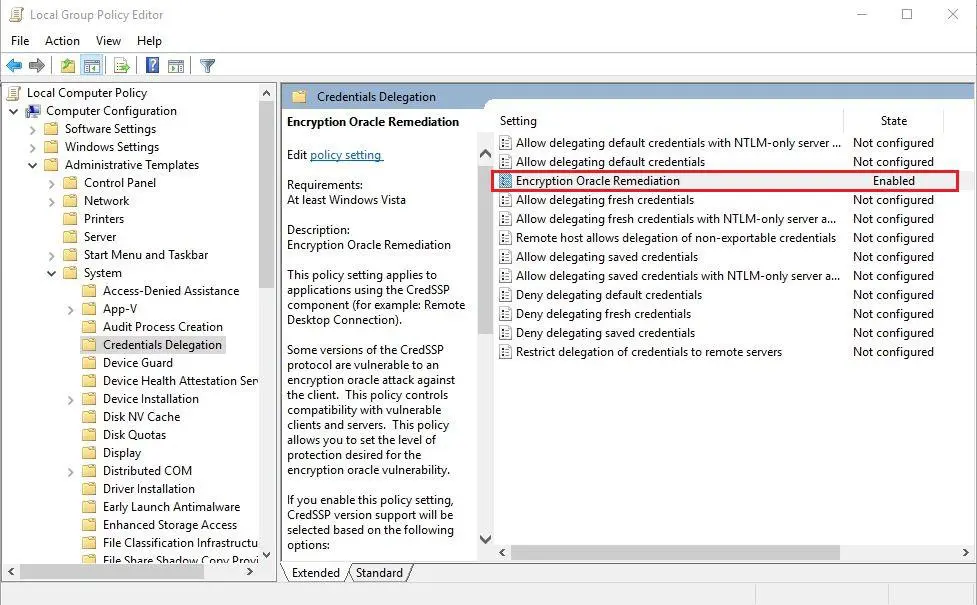 4. Klik dua kali pada "Encryption Oracle Remediation", kemudian pilih "Enable" dan rubah level proteksi menjadi "Vulnerable" dan klik "Apply" atau "Ok"
Metode 2: RegEdit (Registry Editor)
Anda juga dapat memperbaiki masalah dengan bantuan Editor Registri Windows
Buka Windows Registry dengan mengetik "regedit" pada "Run"
1. Kemudian pilih -> HKEY_LOCAL_MACHINE -> SOFTWARE ->
2. Microsoft -> Windows -> CurrentVersion -> Policies -> System -> CredSSP -> Parameters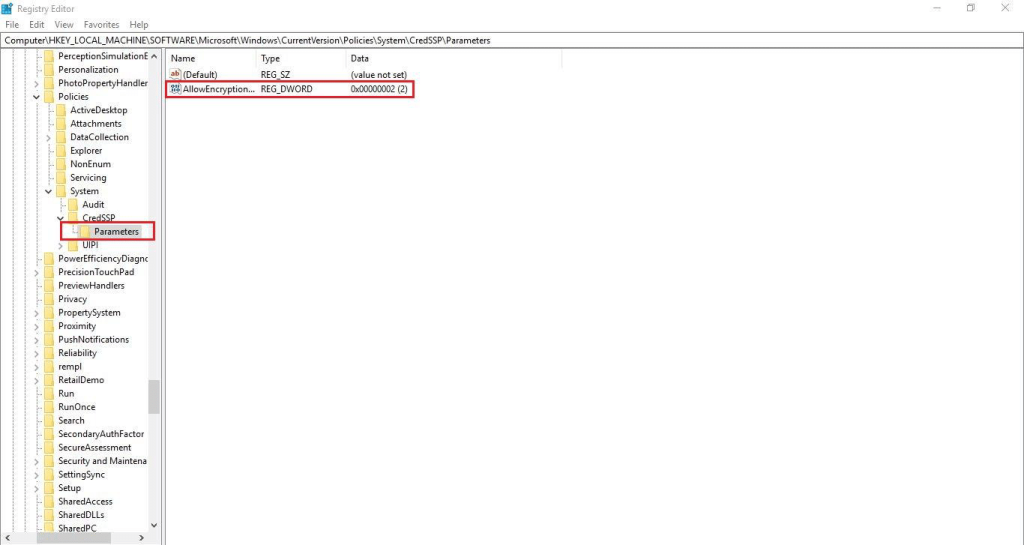 3. Klik dua kali pada Kunci "Allow Encryption" dan rubah angkanya menjadi "2"
Metode ini juga memberikan hasil yang sama seperti yang dicapai melalui Group Policy Editor (Editor Kebijakan Grup). Anda dapat menggunakan tabel di bawah ini dari Microsoft untuk membandingkan pembaruan windows yang diinstal untuk CredSSP.
Operating system
TSpkg.dll version with CredSSP update
Operating system TSpkg.dll version with CredSSP update CredSSP update
Windows 7 Service Pack 1 / Windows Server 2008 R2 Service Pack 1 6.1.7601.24117 KB4103718 (Monthly Rollup)
6.1.7601.24117
KB4103718 (Monthly Rollup)
KB4103712 (Security-only update)
Windows Server 2012
6.2.9200.22432
KB4103730 (Monthly Rollup)
KB4103726 (Security-only update)
Windows 8.1 / Windows Sever 2012 R2
6.3.9600.18999
KB4103725 (Monthly Rollup)
KB4103715 (Security-only update)
RS1 – Windows 10 Version 1607 / Windows Server 2016
10.0.14393.2248
KB4103723
RS2 – Windows 10 Version 1703
10.0.15063.1088
KB4103731
RS3 – Windows 10 1709
10.0.16299.431
KB4103727